Girl's Surcoats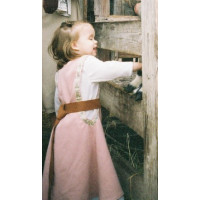 The Surcoat is a standard overdress that was worn from the 13th Century through the 15th century in various forms. The open-sided Surcoat that we offer is based on the 14th century version also known as the "Gates of Hell" for the large deep arm openings showing the underdress. Variants of this dress can be seen in the Lutrell Psalter of 1345.
The linen surcoats have trim around the arm openings, while the brocade ones do not.
These were often worn with a thin belt (not included) that could be worn over, under, or half over and under. Belt is not included.
Most of these are badly wrinkled from storage, and don't show true hip or hem width. They are all cut like the peach one in the picture. The wrinkles just need some humidity to hang out.